IPVanish review
IPVanish is an excellent US-based VPN that has an impressive array of features just waiting for you to uncover. Not only that, but it actually has a range of features you're not going to find in other VPNs as well.
In terms of basic options though, IPVanish has an impressive network. It has over 40,000 shared IP addresses, as well as 1900+ servers across more than 75 locations.

On top of that, all the servers available are P2P-friendly. This means that you're able to torrent from a number of different locations at no extra cost.
If you're planning on making an IPVanish account, the process is simple. Better still, there are a number of different subscription options available to you as well.
If this wasn't enough, the VPN has a selection of apps covering different operating systems. It is also free to install across numerous devices.
Those newer features we mentioned earlier in this IPVanish review, include the fact that this VPN now has the WireGuard protocol installed for added security. However, it also keeps other options too including OpenVPN, IKEv2, and more, making this incredibly versatile.
Finally, if you run into issues, then there's 24/7 live chat support available. In fact, there's more support than we anticipated, with phone access for a range of different countries.
So, with that brief rundown, let's take a deep dive into this IPVanish review and see what else this VPN has to offer.
IPVanish Pricing
To start our IPVanish review, this VPN kicks things off with a relatively decent monthly charge of $11.99. But, for a better deal, you should take a look at the annual plan, as this drops prices down to around $3.99 per month and with a two-year plan the monthly price is only $3.33.
What's great about this VPN is that not only does it offer VPN services, but there's also an option to take on their VPN plus Backup plan. This offers a whopping 500GB of data on SugarSync, and it's only $5.50 a month with the annual plan, when you get everything.
Finally, there's a 30-day money-back guarantee on all annual plans only. This does mean you have to pay upfront, but they're quick with refunds if things don't work out for you.
Privacy with IPVanish
Privacy is definitely one of the strong points of IPVanish VPN.
It still support the old PPTP protocol. This is rather insecure and most VPNs have stopped using it. That being said, it does also support OpenVPN, IKEv2 protocols and of course, the impressive WireGuard protocol. Better yet, the IPVanish app allows you even more control over the OpenVPN setup as well.
Other operating systems, such as the Windows app, give you kill switch, DNS and IPv6 leak protection too. All these combined mean that your identity is protected when you're online.
Logging policies
As a great starting point, this VPN clearly announces that it does not log any of your data.
This means that none of your online activities are recorded. Some data is collected of course, and that's the data you provide when registering. However, there is one gray area where it says that Google's Firebase is used to collect crash information.
That being said, many other VPNs and apps use crash information to understand why the crash has occurred. And by doing so, the software provider is able to improve their service to users.
It's not a logging issue per se, but it does infringe on your privacy a little bit.
Performance of IPVanish VPN
The UK OpenVPN speeds were somewhat slow, with the US results only slightly faster. Most of the top VPNs we review sit as high as 300Mbps, while the US for IPVanish VPN only just scraped 180Mbps, which is a significant difference.
However, when we switched to testing WireGuard, everything was completely different. Here you can expect speeds up to 900Mbps, which is excellent.
Streaming
One of the main uses of a VPN is to access streaming sites in other countries. To that end, in our IPVanish review, we took a look at what the IPVanish VPN is capable of.
IPVanish VPN does a great job of getting you around blocks from BBC iPlayer.
The VPN was able to access Netflix, but only the US version. While Amazon Prime Video also noticed the IPVanish VPN and refused to allow access to any of their content.
Unfortunately, as our IPVanish review shows, this is not the best option for streamers.
Setup and Usability
A standout feature in our IPVanish review is the fact that IPVanish VPN supports a wide array of different platforms. There are clients for Mac, iOS, Windows, Android, and Fire TV.
While there are no browser extensions for things like Chrome or Firefox, there are a number of tutorials available. These even cover options like Linux.
All the apps install very easily. They all have easy-to-follow setup options with no big surprises anywhere along the way.
If you just want to manually set the IPVanish VPN up by yourself, then there are a number of great tutorials available.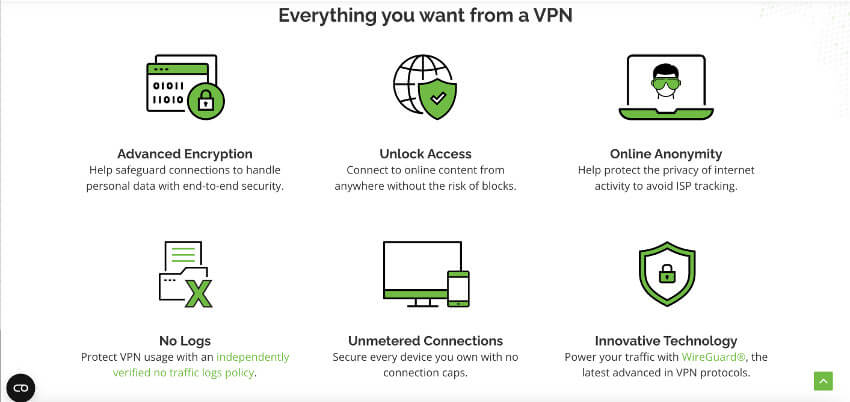 IPVanish Apps
What is great about this VPN is the fact that it has a plethora of IPVanish app options on offer. Each of these is easy to use and download too.
So, whatever platform you are using, there's something available here. Each has its own pros and cons too, which we will cover in this IPVanish review.
Windows IPVanish app
As our IPVanish review shows, most VPN apps are relatively similar. They all offer a list of locations and servers with simple connect buttons to access them. However, the Windows IPVanish app does things a little differently.
For starters, the IPVanish app actually looks a little more complex than those found on other VPNs. But that's just because it has a wider range of functionalities available, making it perfect for higher-level users.
The opening Quick Connect panel does look a little busy, but there are some good points here. For instance, there's a status panel showing the protocol, connection time, name, data that's been uploaded and downloaded, and much more. The detail is exceptional, and you'll be hard-pressed to find such detail on other VPNs.
Android IPVanish App
Similar to the Windows app, the Android IPVanish app opens quickly and takes you right to the Quick Connect screen. It will show your current IP and location as well as all the server and country options at your disposal.
By default, the app does choose the closest server to you. But you can set your own destination country very quickly.
Everything in this app is very easy to use and is quite basic. You can't see any ping times on here for example and there's no option to add servers to Favorites or Recent servers for quick reconnections.
You can get support for all the main clients, including WireGuard and OpenVPN for example. This means you get the optimal speed and more ports than even the Windows client.
A scramble feature and the Split Tunneling feature gives you even more options in the way of security and privacy. It even allows you to select which apps will run through the IPVanish VPN.
While there are sometimes issues, generally this IPVanish app works well, and we were happy with it in our IPVanish review.
iOS IPVanish App
The iOS IPVanish app has much the same features as the other clients. Like the Android app, you're initially greeted with the Quick Connect screen.
It, too, shows the list of countries and servers. But again, that all too useful Favorites button has also been dropped.
In terms of looks, though, this app is the best, beating out its Android version with ease. It's got both a dark and light theme and a stunning layout to boot.
However, the settings are a little sparse and there's no integrated kill switch on offer here either. The options for connections are limited too, with only WireGuard, IKEv2, and IPSEC clients available.
The VPN turns off automatically when connecting to trusted cell networks, so it knows which connections need protecting without you needing to do anything.
Map
The IPVanish app also has a great map interface. In fact, it's so good we will probably put this at the top for any VPN. That's high praise from this IPVanish review.
This map is not a fixed one either; instead, it's dynamic and continually changes. You can move around it too to see more details as and when you need.
It's also not just pretty, but practical too. It contains a huge amount of information pertaining to the number of servers in a given area.
Settings
Once the IPVanish VPN is up and running, you can then start to access the settings in your IPVanish account. Excitingly, you can easily switch between the different protocols such as WireGuard, STP, L2TP, and more.
Within OpenVPN, the options are even greater. For instance, you can choose which port you want to use, and you get to enjoy DNS and IPv6 leak protection as well.
Other options available include being able to define the servers, repair a driver if it gets damaged, troubleshoot problems, and a whole lot more. However, the kill switch isn't enabled through a default setting, so you will need to actually turn it on.
When the kill switch is on, however, it's hard to break the connection. If you do manage it, the client is incredibly quick to warn you of this fact without ever having your real IP address revealed.
Support
While generally, this VPN works well, there are times you may need help. As part of our IPVanish review, we checked the support options available.
Luckily, there's a complete IPVanish VPN help center on offer. This covers a wide range of things through comprehensive articles.
There are troubleshooting guides too, and we checked some of these out in our IPVanish review. Not all of them are helpful though, and, in some cases, it would be easier to get in touch with someone directly.
Luckily, that is a possibility as there is 24/7 live chat available.
Final verdict
As we end our IPVanish review, we can happily say that there's a lot of positives here. It's got a stellar WireGuard performance in place, great apps, and a good live chat option.
However, there are some usability issues as well as some smaller glitches. As such, our IPVanish review shows that it's still not quite good enough to get the top spot.