NordVPN and ExpressVPN are two giants of the VPN market. They are widely considered the best VPNs.
So, we decided to pit these two giants against one another and compare NordVPN vs ExpressVPN on a number of factors.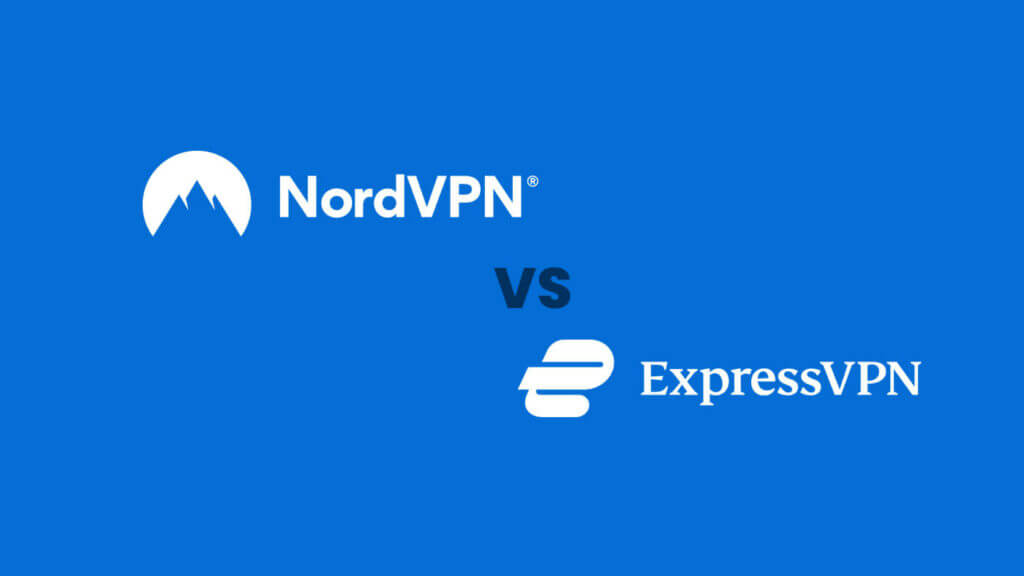 We will closely examine their performance, security measures, speed, features, price plan, and everything else in between.
NordVPN has military levels of security and privacy, but ExpressVPN is super fast. So, let's jump right into our NordVPN vs ExpressVPN review and see who wins!
NordVPN vs ExpressVPN: Privacy Policy
One of the first things you should consider before getting any VPN is their privacy policy.
The most important one is that many keep logs of your online activity. That is, they keep your browsing history, which they may later sell to third-party companies such as advertising agencies or provide to other agencies such as governments, etc.
For this NordVPN vs ExpressVPN comparison, we found that both have a very strict no-logs policy. Not only that, but they also go through regular audits by PwC.
This makes them trustworthy because an independent, third-party company verifies their reliability.
Additionally, NordVPN is registered in Panama and ExpressVPN is registered in the British Virgin Islands. Neither of these countries has a data retention law, therefore their claim to have a no-logs policy is accurate.
So that's a tie.
NordVPN vs ExpressVPN: Servers and speed
The second most important thing to look for in a VPN is how many servers the service has and whether it will slow down your router. The results from both NordVPN and ExpressVPN are promising.
NordVPN has over 5,200 servers in 60 different countries. Thus, you can connect from anywhere in the world with an uninterrupted connection and unlimited bandwidth.
NordVPN allows you to stream, download, torrent movies, and access any online content you want. In addition, you will never experience traffic in one server, because there is always another one available.
ExpressVPN has over 3,000 servers in 94 countries. That is considerably fewer servers than those of NordVPN, even though the geographical spread is bigger.
Nevertheless, Express still manages to maintain high speeds, so you will not experience any issues when streaming, gaming, or torrenting.
Slight win for NordVPN.
NordVPN vs ExpressVPN: Privacy features
A NordVPN vs ExpressVPN comparison would not be complete if it did not include additional privacy features. These features differ from vendor to vendor.
We examined a few of these features, especially those giving you total privacy. These include the protocols that each VPN vendor runs, split tunneling, and RAM-only servers.
NordVPN vs ExpressVPN: Protocols
It is very important for any VPN provider to run different protocols. These protocols give you extra privacy, as they help hide your true location.
Each VPN vendor has its own protocols. NordVPN has NordLynx and ExpressVPN has Lightway.
They are the successors of OpenVPN and IKEv2, respectively. They both work in a similar way, but NordLynx offers better performance.
Both for uploading and downloading, NordVPN maintained high speeds, without slowing down the router. ExpressVPN, in contrast, had lower speed, but without any lagging.
So, in terms of our NordVPN vs ExpressVPN protocol comparison, it's a win for Nord.
NordVPN vs ExpressVPN: Split tunneling
Split tunneling is a feature that allows you to separate where you will use the VPN and where not to. For instance, you want to watch German Netflix, but at the same time, you want to read your local news in the US.
By using the split tunneling feature, you will be able to do both at the same time. The first connection will run through the VPN and the second one will run through your normal IP address.
Both NordVPN and ExpressVPN offer split tunneling. However, NordVPN has better compatibility.
This allows you to use it with more apps than ExpressVPN does. So, in the ExpressVPN vs NordVPN match-up, the winner would be NordVPN.
NordVPN vs ExpressVPN: RAM-only servers
The use of RAM-only servers is a relatively new feature of VPNs. It means that after you reboot your device, all data is deleted.
The servers do not keep any record of your activity, since they are RAM-based. In addition, this allows you to know when the latest software is being installed. Regular servers just update the old one, leaving you in a more vulnerable position.
ExpressVPN was the first VPN vendor that started using RAM-only servers, back in 2019. The new feature was called TrustedServer.
By contrast, NordVPN is still integrating. Every year, the provider moves to more RAM-only servers.
So, in this NordVPN vs ExpressVPN comparison, Express is the winner this time.
NordVPN vs ExpressVPN: Streaming
Many people buy a VPN because they want to stream for free on various platforms. However, not all VPN providers can unlock all the different streaming platforms.
This time our ExpressVPN vs NordVPN match-up is a tie because they are both equally good. They unlock a wide range of streaming platforms including Netflix, BBC iPlayer, YouTube, and more.
Nevertheless, if you want to bypass the strictest geo-restrictions in order to watch Japanese Netflix for example, you may want to go for NordVPN.
Both VPNs allow streaming on all servers, so you do not have to switch in order to connect to a specific streaming platform. In addition, they both offer a smatDNS feature that allows you to unlock streaming platforms on any device.
NordVPN vs ExpressVPN: SmartDNS
SmartDNS is an important feature if you enjoy streaming and gaming. It unlocks streaming platforms, such as Netflix, without connecting to a VPN server or experiencing traffic encryption.
This means that you will have much better speed. In addition, it works on devices that usually do not support a VPN, like specific game consoles and some smart TVs.
NordVPN's SmartDNS is called SmartPlay, while ExpressVPN's is MediaStreamer. Their main difference is that SmartPlay is installed within the VPN software, but it can also work independently.
MediaStreamer cannot function like this. Also, it does not work on Xbox, whereas SmartPlay does.
So, in this ExpressVPN vs NordVPN comparison, when it comes to smartDNS, NordVPN is clearly the winner for us.
NordVPN vs ExpressVPN: Ease of use
When it comes to user experience, we would say that both vendors are equally user-friendly. For instance, both dashboards are tidy and clean.
They also both have maps of all the available servers. However, ExpressVPN has a separate list with all the available countries.
This list comes in handy because you may not know the location of some servers, or you may be looking for a particular location.
Overall, both dashboards run smoothly. It is easy to find all the extra features and make the necessary settings.
Our ExpressVPN vs NordVPN comparison is a tie in this case. However, we'll give extra credit to ExpressVPN because of the country list.
NordVPN vs ExpressVPN: Restricted countries
Both NordVPN and ExpressVPN can give you access to restricted regions. But one of them is better than the other.
NordVPN has obfuscated servers that allow you to hide your connection and make it very complex for someone to find you. Nevertheless, you will have to set up a specific app to make these servers work, especially if you want to connect in China.
However, this is not NordVPN's only useful feature. It also has a Double VPN, feature, which connects you via two different servers for better protection.
In addition, it has a feature called Onion Over VPN. This gives Tor relays to your already encrypted connection.
With NordVPN, you can connect from anywhere in the world, bypassing all geographical restrictions.
In contrast, ExpressVPN does not give you that many options. You can get access to many restricted regions but not with the best protection.
ExpressVPN has a Stealth VPN, meaning that it allows you to keep your connection when the app or the website you are accessing tries to lock you out because you are using a VPN.
However, it works only automatically. That is, the app decides if it is necessary to use it or not. Thus, you may not be able to access a website because the protocol decided it was not needed.
As a result, our ExpressVPN vs NordVPN competition is leaning towards NordVPN once more.
NordVPN vs ExpressVPN: Cost
NordVPN is more affordable. This may sound a bit strange, given its many features and the high security it offers.
NordVPN has three plans, a one-month plan, a yearly plan, and a two-year plan. The monthly plan costs $10.59.
The one-year plan costs $4.36 per month, whereas the two-year plan costs $3.65 per month. As you can see for yourself, the yearly plans are quite cheap.
ExpressVPN is more expensive though. It has three plans as well, namely a one-month plan, a six-month plan, and a yearly plan.
The one-month plan costs $12.95, and the six-month plan costs $9.99 per month. The yearly plan costs $8.32 per month.
Thus, ExpressVPN is way more pricey than NordVPN. In this ExpressVPN vs NordVPN match-up, Nord is the definite winner.
Last but not least, both vendors have a 30-day money-back guarantee. You can try their software for a month and if you are not happy, you will get your money back.
NordVPN vs ExpressVPN: Customer Service
Customer service is the last sector of our ExpressVPN vs NordVPN comparison, and once again we have a tie.
Both of them offer excellent customer service. For starters, you can always contact them via live chat, which is available 24/7.
Their representatives are very polite and friendly. They are also well trained and knowledgeable, so they can solve your problem and answer your questions in no time.
In addition, the waiting time is short. In the busiest times, you may have to wait just five minutes before a representative gets back to you.
Moreover, both vendors offer you the option of email contact. If your problem is a little more complicated, or you are not in a hurry, you can send an email.
Finally, both NordVPN and ExpressVPN have organized FAQ sections. There, you can find answers to more general questions, such as what is a VPN, along with others regarding subscriptions, and so on.
We feel we should give ExpressVPN extra credit because they also have video tutorials on their website, explaining how to use their software.
NordVPN vs ExpressVPN: Our verdict
Our NordVPN vs ExpressVPN comparison has come to its conclusion. It is time for our verdict.
Overall, both VPN providers are great. They offer high levels of security and many extras that provide you with additional layers of protection.
First, though we do have an overall winner. In this battle, we found that Nord VPN was simply better in so many ways.
NordVPN gives you military-level security, as well as add-ons that even hide the fact that you are using a VPN. It also runs way faster than ExpressVPN, gives you access to more content, and is significantly cheaper.
Nevertheless, ExpressVPN has similar privacy and security features, but not quite on the same level. However, it is fast, and it does give access to geo-restricted content, although to a slightly lesser extent than Nord.
Not to mention that it is slightly more expensive. However, it's up to you to decide whether the services it provides justify the price tag.
Overall, we prefer NordVPN. We have examined both these VPN services from various different points of view, and NordVPN came out as the clear winner.