NordVPN and ProtonVPN compared
In this article, we will make a detailed comparison of NordVPN vs ProtonVPN. These are two popular VPN options, so read on to see how they compare.
VPNs have become a necessity for those who want to browse online safely. It is not just that they hide your location. They also offer other benefits, such as Antivirus, which protects your device from malware, viruses, and hacking.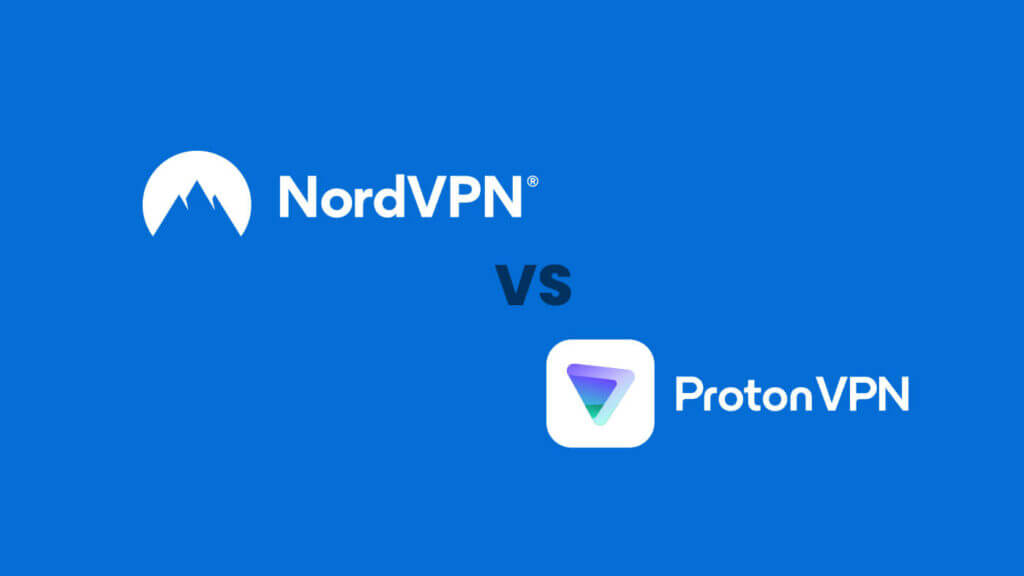 NordVPN vs ProtonVPN — Similarities
Privacy
Privacy is the main reason why people use a VPN. Naturally, it is the first thing we dug into when comparing ProtonVPN and NordVPN.
So, first and foremost, both providers have a zero-log policy. That is, they do not keep a record of your online activities, except for crash reports.
Thus, your online activity remains concealed from your internet service provider (ISP). However, many VPN providers actually collect this information and give it to advertisers, data brokers, etc.
Neither NordVPN nor ProtonVPN does that. In addition, both constantly undergo system audits, to be fully transparent about their no-log policies. So, when it comes to privacy, in our ProtonVPN vs NordVPN comparison, the result is the same.
Ease of use
Both NordVPN and ProtonVPN have designed simple and easy-to-use dashboards, for both desktops and mobiles. You can use a countries list or a server map, a feature not available from many VPN providers.
The overall experience is great because the dashboard is not complicated. You can find anything you need easily, whether you're using your home PC or your phone. Therefore, there is no clear winner in our ProtonVPN vs NordVPN comparison. They are equally good.
DNS security and Encryption
There have been stories online about server leaks from VPN providers who swore that they had the best servers. But both NordVPN and Proton VPN have their own DNS servers.
They also use the latest AES-256-GCM encryption protocol. Thus, your network is always secure.
Encryption may be something common in the industry. However, not many VPN providers take responsibility for their servers and networks.
So, in our NordVPN vs ProtonVPN comparison, this is a very big advantage for both providers. This is something that you should definitely consider.
Specific Servers and Platform Compatibility
ProtonVPN is currently using over 1000 servers, whereas NordVPN uses over 5000.
If you want a VPN to torrent, this may be something you want to think about. You may say we have a first win in the ProtonVPN vs NordVPN match-up.
However, if you want a VPN in order to game or stream bufferlessly, then both providers are good. Once again it's even-stevens in our NordVPN vs ProtonVPN comparison.
If you are wondering about their compatibility with Mac or Windows, you do not need to worry anymore. Both providers are fully compatible with both.
In addition, they are fully compatible with iOS and Android. Therefore, whatever phone device you have, you can use your VPN there too.
Also, you can easily integrate from one to the other without experiencing problems.
NordVPN VS ProtonVPN — Differences
Server locations
Their first major difference is that one provider has many more servers and covers more countries than the other.
NordVPN has 5,700 servers worldwide. Nearly 1,900 of those are located in the U.S. This means that NordVPN has twice as many servers in the U.S. alone as ProtonVPN has.
ProtonVPN also operates servers worldwide, but the majority are in the US and Europe. Therefore, accessing these regions should not be a problem. However, it also covers areas that are even further away, the latest addition being Brazil.
In this NordVPN vs ProtonVPN comparison, NordVPN is better because it covers 59 countries, whereas ProtonVPN only covers 54. This could be a problem for you, especially if you upload or download large files on a regular basis.
Device limit
The ProtonVPN basic plan protects only two devices. So, if you are living with your family, you will not have the option to protect all the devices in your household.
If you want to include more devices, you need to upgrade to the ProtonVPN Plus plan. This allows you to have ten devices connected at the same time.
By contrast, NordVPN's basic plan includes six devices but costs more than the ProtonVPN basic plan. However, the ProtonVPN Plus plan costs almost the same as the NordVPN basic plan.
So, we have a clear winner in this NordVPN vs ProtonVPN review, and it is, of course, Nord.
Desktop User Interface
When it comes to the ProtonVPN vs NordVPN desktop interface comparison, NordVPN has many features to its dashboard. For example, it allows you to have a Double VPN, complicated servers that hide your use of VPN, unique IP addresses, and others.
In addition to all these, its installation process is very easy and smooth. The design is also nice, and it allows you to find easily all the aforementioned features.
ProtonVPN's dashboard is also minimal and easy to use. It has a server map, just like Nord, but Proton's is more detailed, and it shows the different regions through which you can connect.
ProtonVPN also has a countries list. You simply click on the country you like, see that server statistics, and connect.
However, ProtonVPN stands out for its custom profiles. You choose a location and the provider will find the fastest connection and save it to your Favorites List.
Even though they both have their advantages and special features, we would cast our vote for NordVPN in this review, due to its obfuscated servers.
Mobile User Interface
ProtonVPN's mobile dashboard experience is pretty much the same as when using it on your desktop. However, it has an extra exciting feature.
It allows you to transfer Open VPN files in groups to any Open VPN compatible device. So, you do not need to upload them one by one or try to compress them.
In contrast, NordVPN includes more security features on the mobile dashboard. For instance, it has malware and phishing blockers, split tunneling that allows you to visit websites that normally do not accept VPN connections, and others.
Even though NordVPN is fully compatible with both iOS and Android, iOS users can use a new feature. It is called the Specialized Servers List.
When using this, you can filter the available servers depending on your activity. For example, you will log in to one server to torrent, another one for gaming, and so on.
So, when it comes to mobile use, there is no need to ask which one is better in our NordVPN vs ProtonVPN match-up. NordVPN offers more of the features that you need on a daily basis.
Protocols
Protocols are back-end systems that keep VPN channels safe and functional. There are three types: OpenVPN, IKEv2, and WireGuard.
ProtonVPN runs only OpenVPN. But, you can connect manually to IKEv2.
NordVPN uses all three of them, and it does not stop there. It has developed its own protocol, NordLynx, which you can try out if you have a fast connection.
Given the variety of options, there is no point in mentioning who gets the points. It seems that ProtonVPN vs NordVPN is an uneven battle.
Performance
Another thing you should consider when choosing a VPN provider is speed. Not so much as to whether it will increase your upload speed, but if it will make your router run slowly.
Let's see how NordVPN vs ProtonVPN performs and how each affects your router.
NordVPN is known for being very fast. It does not drop the download speed by more than 5-10%. In addition, it makes the upload speed run 70% faster, on average.
However, ProtonVPN is slower. It slows down the download speed by 20%, which is a lot. Also, it does not improve significantly the upload speed.
This affects ProtonVPN's European servers too. While it is ok if you want to stream TV series or watch movies, it is not fast enough so that you will not have connectivity issues.
If you are planning on streaming, you will have to upgrade to the ProtonVPN Plus plan. In contrast, NordVPN is faster with just the basic plan.
Pricing
ProtonVPN
ProtonVPN has four different plans. These are the free, Basic, Plus, and Visionary plans.
The first one is free of charge, and it allows you to have one VPN connection with medium speed, and access 24 servers in three countries.
The Basic plan costs $4 per month or $48 per year. It allows you 2 VPN connections with high speed and access to more than 400 servers in more than 40 countries.
Furthermore, you have access to blocked content, P2P/BitTorrent support, as well as a NetShield Adblocker.
The Plus plan costs $5.99 per month or $71.88 for the first year. It allows you ten VPN connections with high speed and access to more than 1500 servers in 61 countries.
Moreover, you get steaming device support, secure core VPN, and Tor over VPN.
Finally, The Visionary plan costs $24 per month or $288 per year. It includes all the Plus features, as well as a ProtonMail Visionary account.
NordVPN
NordVPN has three VPN plans and, at the time of this review, it has juicy Christmas deals. However, the official website does not state clearly what you get with each plan.
It says what NordVPN offers overall, but for more specific details, you need to contact their support team.
The first plan is monthly based. That is, you pay per month, not a yearly amount. The fee is $11.
The other two plans are for one or two years. The first one costs $52.27 per year equivalent to $4.36 per month, and the second one costs $69.99 for two years or $2.92 per month.
Generally, NordVPN is preferable because it is cheaper, and offers more features. Besides, many tech experts use it, including HuffPost, Forbes, BBC, Yahoo Tech, TEDx, BuzzFeed, Business Insider, and others.
Last but not least, NordVPN has a 30-day money-back guarantee. So, if you are not happy with the service in the first 30 days, you can cancel the subscription and get your money back.
Thus, in this ProtonVPN vs NordVPN review, the winner would be Nord.
Support
In our NordVPN vs ProtonVPN comparison, NordVPN is better when it comes to customer service.
It has email and live chat support available 24/7. The staff are very friendly and have answers to all questions.
For example, if you want to find more details about the pricing plans, and you contact them, they will get back to you in just a few seconds.
Moreover, NordVPN has an organized FAQ section, as well as a library. There, you can find all the documentation you may need, and specific information about how Nord's features work.
ProtonVPN does not offer support via live chat. This is a shame, given that the designers of this VPN are CERN scientists.
They do have support via email, but the response time is slow. It usually takes one or two days to receive an answer.
Finally, there is a detailed FAQ section, that tries to cover all questions from registration and installation to technical issues.
Therefore, if customer service is a deal-breaker for you, this ProtonVPN vs NordVPN comparison shows that Nord has better support.
NordVPN vs ProtonVPN: Which provider is better?
So, the final verdict of our NordVPN vs ProtonVPN review is simple. NordVPN is better than ProtonVPN.
ProtonVPN has created a flawless and secure network. It is based in Switzerland, so as a neutral country, it stays out of suspicious eyes.
However, NordVPN offers more when it comes to desktop and mobile features. It also has outstanding performance constantly. And if all these were not enough, it has the best customer support.
What matters the most is privacy. Both NordVPN and ProtonVPN are ridiculously transparent about this.
If you are looking for a business plan, this NordVPN vs ProtonVPN review comes out in favor of NordVPN. It is more complete, as it has more provisions.
Our final recommendation is to try them both out to see what suits your needs better. This is the best thing you can do.