NordVPN and CyberGhost are VPN service providers with a good reputation, and many satisfied users can confirm this. But the question is, are these two options equally good? What happens in a NordVPN vs CyberGhost duel?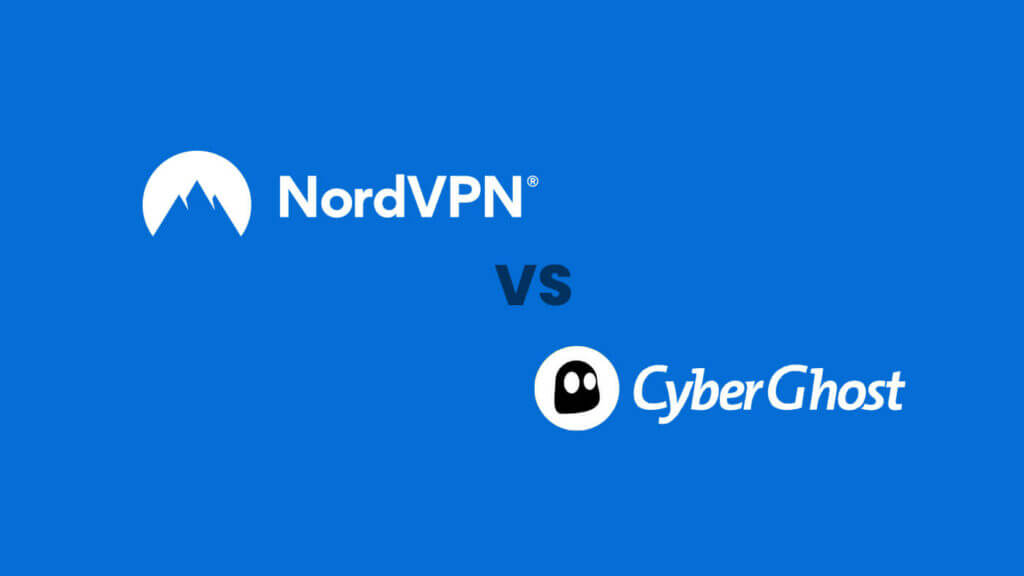 Thanks to our detailed guide, you will get a better picture of the ratings of both solutions. We'll analyze the cost, speed, features, security level, and performance, in general, to come to a conclusion.
Don't forget that both options are good and neither one of these is classes better than the other. Yet, an overall winner will be presented in this guide.
Now let's reveal our in-depth NordVPN vs CyberGhost guide!
Servers and speed
The speed and quantity of servers play a major role in the overall VPN experience for most users. It's always a good idea to opt for a solution that lets you connect from different parts of the world without affecting your connection speed. Once again, CyberGhost and NordVPN meet and exceed the expectations of VPN users.
With NordVPN, you'll get access to more than 5,400 ultra-fast servers. They are located in 58 countries on all continents with permanent human habitation. These ultra-fast servers allow users to transfer data without experiencing problems. In other words, they can watch even 4K content without hassles.
CyberGhost has recently upgraded its network and has more than 8,000 servers in 91 countries and 114 locations. They, too, offer fast speeds, but from our personal experience, NordVPN is better when it comes to speed. Also, we'd like to mention that both solutions keep adding new servers to their network.
If you are looking for a VPN with incredible speeds, go with NordVPN. Users who are impressed by the number of servers should pick CyberGhost.
The ultimate list of fastest VPNs can be found here.
Privacy Policy
Suppose you care about privacy (most VPN users do). In that case, you should analyze this policy found in the VPN service provider. These are not long pages, and users should spend time reading them. Of course, you can also read this part of our guide, where we break down the most important things about the privacy policies at NordVPN and CyberGhost.
Let's start by noting that the logs kept by certain VPN service providers can affect your privacy and anonymity. Thanks to these logs, the providers' employees, government officials, or even hackers can check what you have downloaded, watched, or browsed on the Internet.
So, choosing a VPN provider with a zero-log or no-log privacy policy is necessary to avoid unpleasant situations. The famous brands will not track and store your online activities.
The no-log policies are present at both NordVPN and CyberGhost. NordVPN has a strict no-log policy which was audited independently, and the same goes for CyberGhost.
Since they both have virtually the same privacy policies, this section ends in a tie.
Check our list of most secure VPNs here!
Privacy features
The NordVPN vs CyberGhost match must include the privacy features these brands offer to be complete. The protocols, split tunneling, and RAM-only servers were tested by our experts, and here's what we found.
Protocols
Every established VPN service provider relies on one or more protocols to secure the privacy of its users. Of course, NordVPN and CyberGhost are no different.
First of all, we'll mention CyberGhost with its WireGuard protocol. Next, we'll highlight that NordVPN users have a modified version of WireGuard – NordLynx. In addition, you can expect OpenVPN and IKEvs2/IPsec protocols in both cases.
So, we have another tie here.
Split tunneling
Did you know that you don't have to use VPN when you are multitasking? In other words, you can let the VPN app mask your address when using specific services or sites and keep the original address in different situations. This is called split tunneling. So, users can watch US Amazon Prime and browse with their actual IP address.
Thanks to split tunneling, you can get a dual connection with different addresses – the original/local and the one provided by the VPN service. You can use this advanced VPN feature from NordVPN and CyberGhost. NordVPN takes it to another level by providing two types: app-based and inverse split-tunneling. That makes NordVPN a better option.
RAM-only servers
With the help of RAM-only servers (diskless servers), the traces you leave when you visit sites, stream content, play games, or do anything else on the Internet via VPN will be deleted automatically. In other words, nothing is stored locally. Theoretically, if a government agency seizes a server, they will find nothing but a wiped-out piece of hardware.
A couple of years ago, NordVPN upgraded its entire infrastructure and turned all its servers into RAM-only servers. CyberGhost has not yet achieved this goal even though they promise their team owns and manages 8 out of 10 servers.
So, CyberGhost may be a safe option, but thanks to the RAM-only infrastructure, NordVPN is a winner here.
Streaming
The CyberGhost vs NordVPN duel continues with their streaming capabilities. Many people today are considering using VPNs due to this reason. Namely, many georestricted streaming platforms can be accessed without any hassles with the right VPN.
With over 2,400 servers in North America, NordVPN provides many opportunities for users to connect and watch their favorite content on some of the most famous US-based streaming platforms like Amazon Prime, Hulu, and Netflix. NordVPN is focused on these streaming services and vouches for high-quality streams.
The same goes for CyberGhost, which has recently upgraded its network of servers and added hundreds of options from the United States and Canada. Whatever you choose here will not be a mistake, but NordVPN has an advantage due to its speed. So, if you are interested in 4K or full HD streams, NordVPN is probably better.
Check the list of best VPNs for streaming here!
SmartDNS
There are situations when you can't use VPN simply because the device doesn't let you install a VPN application. This is usually the case with older smart TVs. But, even if you find yourself in a situation like this, you should know that there's a solution – SmartDNS. These devices usually allow users to adjust the DNS settings.
NordVPN has SmartDNS, and with its help, you can unblock content from almost any location. On the other hand, CyberGhost doesn't have such an option leaving users of older devices without support. While talking about SmartDNS, we should mention that NordVPN's VPN app has the MediaStreamer feature that provides DNS configuration.
Indeed, there are better options than NordVPN for SmartDNS, but CyberGhost doesn't have this option, so this is another thing that makes NordVPN a better choice.
Ease of use
The best VPN service providers have applications that make it easy for beginners to find the needed features. We're talking about a pleasant user experience, which you can expect from both NordVPN and CyberGhost.
It doesn't matter whether you are logged at CyberGhost or NordVPN – the control panel gives you access to everything you need. For example, they let you choose a server from the map or type in the city/state/country to find the best servers.
So, when discussing the ease of use, the CyberGhost VPN vs NordVPN battle ends in a tie.
Restricted countries
Even though the first two decades of the 21st century have passed, there are still places in the world where authorities that deliberately limit or block the Internet.
Iran, China, and Russia are some examples of that. Without going into debates about whether the circumstances that led to these restrictions were justified, we should mention that a good VPN service provider should help users from these countries overcome this problem.
With these providers, you can expect complete protection thanks to the kill switch feature. Namely, if the connection drops, your original IP address will not be revealed because the service prevents access to the Internet until you reconnect to another server.
CyberGhost is better because it has more servers in different countries and locations than NordVPN.
Pricing
For many users, this will be one of the crucial things that will determine the NordVPN vs CyberGhost duel. In our opinion, the price is definitely essential, but you should also know what you get for that price.
Both options come with several plans designed for different categories of users. Basically, the difference is between the period you want to use these services. The longer your commitment, the lower the price.
NordVPN has three plans, each with several sub-plans (extra features). We will focus on the standard package containing everything the average user needs. So, the monthly plan costs $11.99. After that, we have the 1-year plan that costs $4.99 per month or $59.88 for the first year. Then we have the 2-year plan that requires $3.99 per month ($95.76 in total).
On the other hand, CyberGhost costs $12.99 per month with the monthly plan and $4.29 a month ($51.48 per year) with the 1-year plan. Also, the 2-year plan asks for $3.25 a month ($78 in total). Finally, there's the 3 years + 3 months plan for $2.29 per month ($89.31 billed every 3 years).
So, the only plan where NordVPN is cheaper is the month-by-month plan. Also, NordVPN provides a 30-day money-back guarantee deal. At the same time, CyberGhost has a 45-day money-back guarantee (except for a one-month deal with a 14-day money-back guarantee).
If you need a VPN service for a short period, NordVPN is a better option.
Customer Service
With CyberGhost and NordVPN both options promise top-notch customer care.
First of all, NordVPN users can expect several options to find answers. For instance, you will find a live chat feature available 24/7, all year round. Every time you get in touch with the representatives, you can expect true professionals ready to resolve any issue. The waiting time is short.
CyberGhost also has a live chat feature that works similarly. Additionally, you can send an email for more complex questions, just like in the case of NordVPN. But, CyberGhost has another Ace in its sleeve, and that's phone support, which NordVPN doesn't have.
Before contacting the customer support agents, we will advise our users to visit both sites' respective help/support pages. These are excellent sources of answers to the most frequent questions.
Comparing these two options, we would say that CyberGhost leads only if you need phone support. Other than that, they are equally good.
NordVPN vs CyberGhost: Our verdict
The NordVPN vs CyberGhost battle is slowly coming to its end.
From what we've seen, these are two great options for all VPN users. They care about users' safety, security, and privacy and deliver anonymous web browsing, downloading, and streaming.
Of course, this doesn't mean that you are looking at two identical VPN brands.
When you wage all the things, we can say that the winner of the NordVPN vs CyberGhost match is NordVPN. Some nuances make the difference because both brands offer outstanding performance.
NordVPN has upgraded its entire infrastructure to diskless (RAM-only) servers. It also provides ultra-fast speeds to all its users. You can also expect SmartDNS from this provider.
Even though CyberGhost is generally a cheaper option (it's not cheaper when it comes to the monthly plan), the difference is not drastic.
If we must choose between NordVPN and CyberGhost, we will choose the former. However, CyberGhost is also a good option and actually beats NordVPN in several areas. Reread our review if you still have dilemmas, and don't forget to put your preferences and needs first.