NordLayer VPN is part of the Nord family of products along with NordVPN. Unlike its sister product, NordLayer is designed with the needs of business users in mind.
Every user will find three different offers (Basic, Advanced, and Custom) depending on their needs. The cost of each offer depends on the subscription length – monthly or yearly.
Depending on your plan, you can expect a different level of protection for your business, including a range of security features and a virtual private gateway.
NordLayer VPN overview
Our NordLayer VPN review will showcase the strengths and weaknesses of this service provider, so it can help users decide whether it deserves a try.
We will closely examine the most important features found at NordLayer and highlight the best things and possible downsides.
It's crucial to remember that this is not just a VPN provider – it's a business VPN provider that also takes care of the security needs of modern businesses.
If you are a business owner, you will definitely find our in-depth NordLayer VPN review helpful.
We'll start this review with the key features.
Key features
A VPN solution designed for modern businesses
Provides multi-layered security solutions
It supports multiple devices
Easy to use
Minimalistic design
Integration with major network equipment and endpoints (AWS, Azure, Google Workscape, Google Cloud, SalesForce, etc.)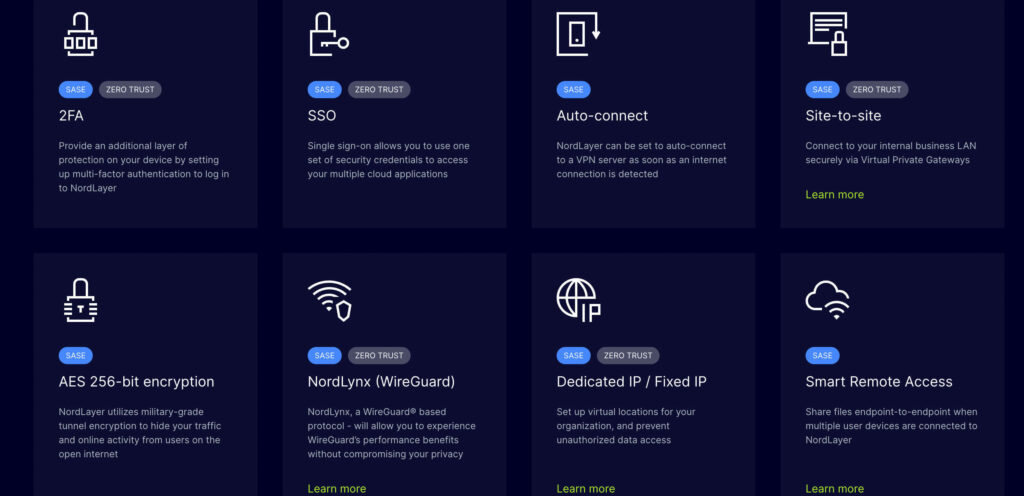 Plans and Pricing – is NordLayer VPN cheap?
NordLayer VPN is definitely not an inexpensive solution. However, it still has competitive prices, especially when we know that this is a business solution.
Unlike regular VPN providers, users can choose the length of their subscription and the features they can get from the provider.
Generally speaking, we have three plans: Basic, Advanced, and Custom.
For the Basic plan, which includes protection with a core range of security features, you must pay $9 a month.
On the other hand, for the Advanced plan, which comes with an additional cover with a personalized virtual private gateway, users must pay $11 per month (in addition, they can pay $50 more per month for a dedicated server with a fixed IP address).
Finally, we have a Custom plan for businesses with specific demands. The price for this package depends on your business needs and is open for discussion with NordLayer's team.
Those willing to strike yearly deals with NordLayer VPN will get discounts – the Basic plan costs $7 per month ($84 annually), while the Advanced costs $9 a month ($108 annually).
So, you can save 18% or 22% in this way.
Also, it's not unusual for NordLayer VPN to reveal special deals/discounts from time to time.

Can I pay anonymously for NordLayer?
Even though privacy and anonymity might not be on top of your mind when looking for a business VPN, it's still good to know that you can purchase plans anonymously if needed.
Fortunately, NordLayer VPN belongs to the VPN service providers that allow this payment method.
Of course, we are talking about payments with cryptocurrency.
To be more precise, this solution accepts Bitcoin payments, but there's a catch. Namely, you can use this payment option only for purchases above $1,000.
So, cryptocurrency payments will not mean much unless you plan to use the Advanced plan and activate additional features.
We should also note that NordLayer accepts conventional payment solutions like direct bank transfers and credit cards.
What's NordLayer's server selection like?
The server selection at NordLayer VPN is another thing that will make you realize how different commercial VPNs for individuals and VPNs for businesses are.
Even though it has not highlighted the number of servers, we can confirm that NordLayer has servers in over 30 locations.
This is not much compared to the best VPN services, but we must mention that you are looking at a business VPN solution.
Some of the most important countries in terms of business are covered on their list of shared servers. We have many European countries (Germany, the UK, France, etc.), the USA, Japan, UAE, Hong Kong, and more.
Users can also find dedicated servers in 25+ countries.
All the options promise fast speeds and reliability, meaning their downtime is minimal and barely noticeable.

Does NordLayer have special servers?
Users with Advanced or Custom NordLayer plans can order a dedicated server license.
This is an excellent option for businesses and employees that need a fixed IP address for their project.
They will be the only individuals that can access the server. With its help, they can employ safelisting/allowlisting for remote resources.
Another thing that we should note is that many businesses use dedicated/special servers with fixed IPs at NordLayer VPN to create site-to-site connections.
As mentioned above, you will find servers in over 25 countries, including Australia, the USA, the UK, Canada, Germany, France, Norway, South Korea, RSA, and Japan.
Security and privacy at NordLayer VPN
One of the reasons why more and more people use NordLayer VPN is the excellent security and privacy they get from this provider.
Corporate and business users will find a no-logging policy which is practically an industry standard today.
Thanks to the no-logging policy, users can rest assured that the data transferred through some servers are private and not stored on any of these servers.
Even though the number of servers is relatively low, they are modern, and the level of encryption makes them virtually bulletproof.
Besides the security and privacy tools in the Basic plan, you can enjoy advanced tools in the Advanced package.
Another thing worth mentioning is that any organization member can use up to six devices with their dedicated NordLayer account.
Don't forget that this provider has a 14-day money-back guarantee policy but only for accounts in good standing.
In the end, NordLayer includes a set of security measures to protect its users, including biometric authentication, 2FA, single sign-on, network segmentation, user provisioning, and jailbroken device detection.
Encryption and tunneling protocols
One of the first things we should mention in this section is that NordLayer VPN's information security management systems are certified (ISO 27001).
They got the certification based on the proof they provided regarding data security, risk assessment, and business risk strategies.
Furthermore, NordLayer VPN has a successful SOC 2 Type 1 audit vouching for the provider's product development quality.
The latter means that this option was tested and confirmed that it is SOC 2 compliant for the service organization's systems.
Finally, NordLayer supports powerful AES-256 military-grade encryption.
As for the tunneling protocols, the NordLynx protocol, based on the open-source WireGuard tunneling protocol, encrypts user data sent and received from the VPN server.
This means that no one can find and view the data during transfers.
NordLayer kill switch
Here's another example of a helpful feature that many VPN providers have started including in their offers: NordLayer VPN is among them.
When this feature is active, it will cut off the Internet connection to keep your data traffic safe if your VPN connection is experiencing problems.
We should note that iOS and macOS platforms don't have a toggle. Still, the kill switch is implemented within the Operating System level.
You can use this helpful feature on almost any device; it takes a couple of clicks to activate/deactivate it.
No-logs policy
NordLayer doesn't keep logs of businesses' online activities.
So, when users get online through one of the VPN servers of this provider, they will get complete protection from their internet service providers, government agencies, and others.
Simply put, their online activities will be hidden, but this doesn't mean that the VPN provider will also leave you to do whatever you want without spying on you.
With NordLayer VPN, you can expect a no-logs policy that guarantees the provider doesn't collect or log traffic information passing through its servers.
Whether you use shared or dedicated servers don't matter – the no-logging policy is always active.
Multi-hop connection
You will not find any information about multi-hop connections on NordLayer's homepage. But this doesn't mean that the provider doesn't offer this feature.
In addition, even if you can't hop between two or more servers before reaching your desired virtual destination, this doesn't make NordLayer less safe.
What devices does NordLayer support?
NordLayer VPN can be used on up to 6 devices simultaneously.
This doesn't mean that these devices must be of the same type. On the contrary, you can use it on various devices with different operating systems.
Here are some of the devices supported by NordLayer:
Desktop computers (Linux, Windows, macOS)
Mobile (iOS, Android)
Browsers (Firefox, Chrome)
Routers
Is NordLayer suitable for streaming?
To be honest, this question is usually asked by individuals looking for VPNs for entertainment purposes.
Still, this doesn't mean you should not check the streaming quality when selecting a business VPN solution.
After all, this option might be used for video conferences and meetings, where streaming quality comes into play.
Since all servers, including the shared ones, promise high speeds, it's safe to say that NordLayer is suitable for streaming.
Customer Support at NordLayer
NordLayer has an intuitive design that makes almost every option a click away.
Still, you might find yourself in a situation where you need help from time to time, and that's when the professional customer support at NordLayer VPN comes into play.
You can find a live chat feature that lets you talk to a trained, qualified, and friendly customer service agent.
It usually takes just a few minutes to reach such a representative. In most cases, they will resolve the issue within minutes.
We advise all users to check the Help center first because this page has many questions and answers that can help you.
Conclusion
Those looking for a modern, effective business VPN solution can count on NordLayer VPN.
This option was designed for business users and is part of the famous Nord family of products (NordVPN is another product of this family).
Although you won't find hundreds of servers in many countries, you can still enjoy servers in 30+ locations across the globe.
Another great thing about NordLayer is the presence of multiple security tools and options, making VPN usage for business purposes safer than ever.
Given all these things, it's not difficult to understand why we recommend NordLayer VPN to our readers.