A few VPN service providers are found on many lists of top brands, and Surfshark and ExpressVPN are definitely among them. They are used by thousands of people across the globe every day.
Of course, these two options have many things in common, but you can also expect some differences. To find out who's better in general and specific areas, we recommend reading our Surfshark vs ExpressVPN comparison.
Thanks to this detailed review, you will learn more about the features offered by these VPN providers and the security, cost, speed, and other essential things.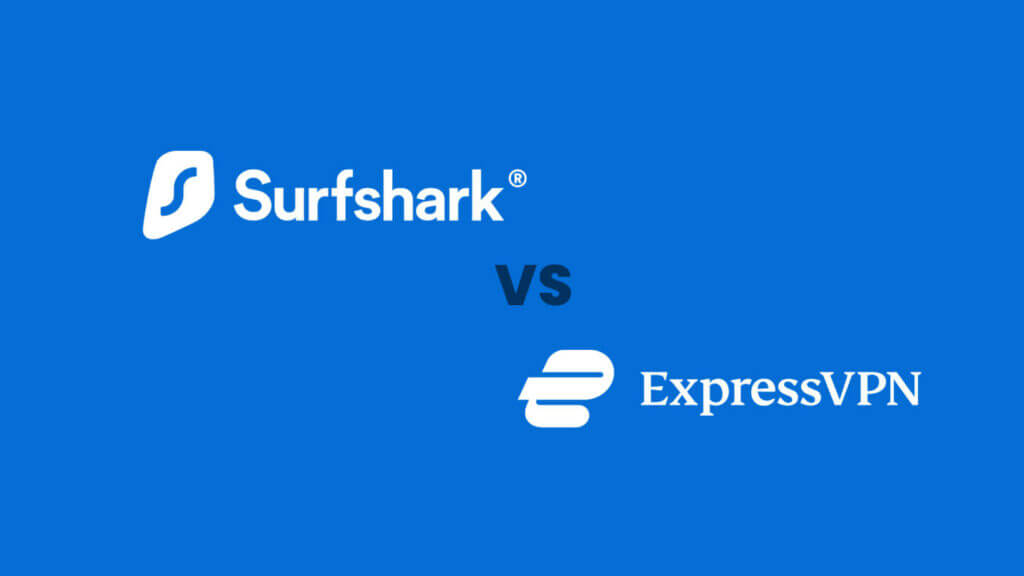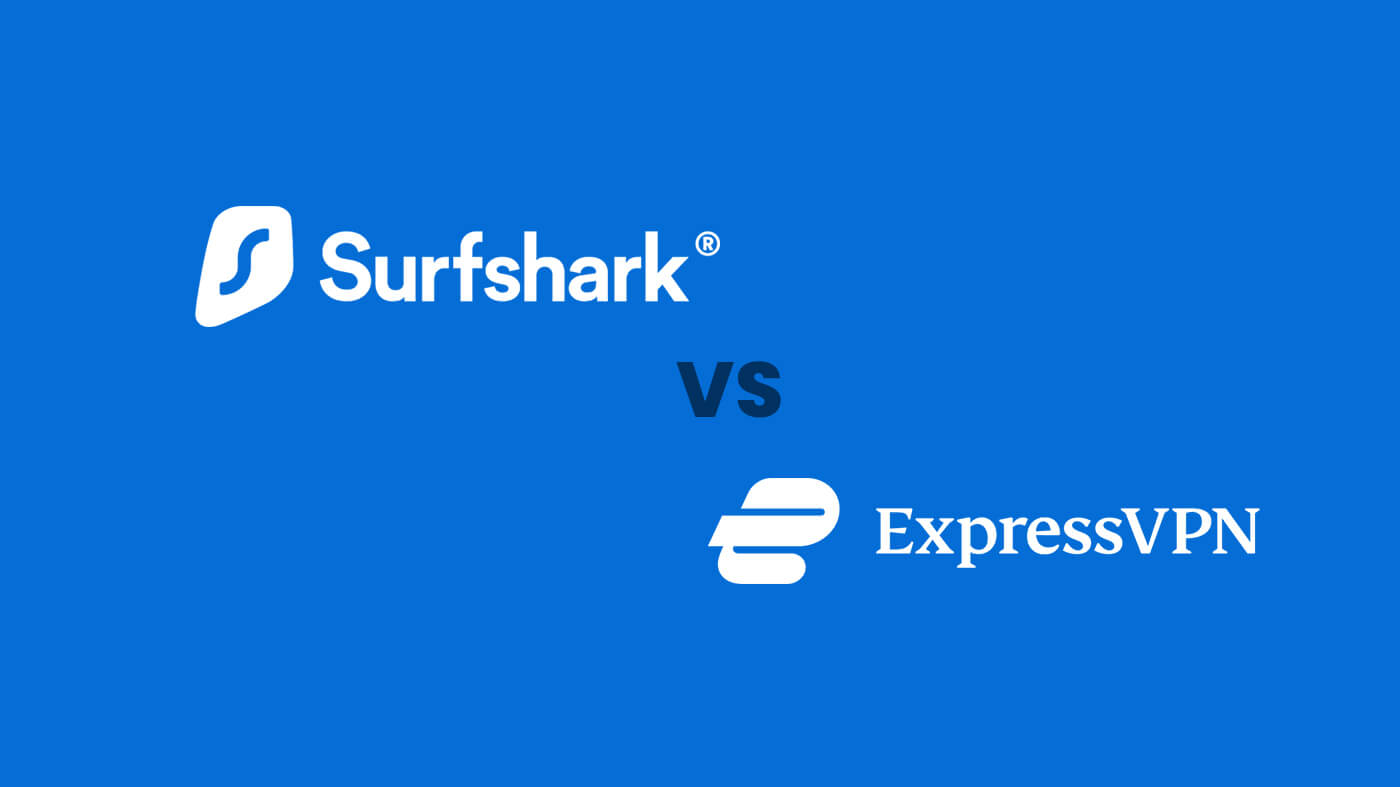 Surfshark vs ExpressVPN: Privacy Policy
First of all, it's wise to check their log policy. Simply put, you should look for a solution that follows a zero-log or no-log privacy policy. This makes sense because otherwise, your web browsing history, downloaded files, streams, or any other online activity may be saved by the VPN service provider and abused by someone in the future.
Keep in mind that some operators can't promise the removal of connection logs. Still, they don't play almost any role in your online privacy.
As for Surfshark and ExpressVPN, you are looking at solutions with strict no-logs privacy policies. They don't monitor, track, or store your online activities, including connection logs. We should also note that ExpressVPN operates from the British Virgin Islands and Surfshark is a Dutch company.
When it comes to privacy policies – it's a tie.
Find a list of safest VPNs here!
Surfshark vs ExpressVPN: Servers and speed
To start with, with ExpressVPN, you can expect over 3,000 servers located in 94 countries (160 locations). Thanks to this extended server network, you can "appear" in every corner of the world.
Additionally, we should highlight the speed of these servers, advertised as ultra-fast, which is probably a good word to describe them. You can enjoy unlimited bandwidth.
With Surfshark, you will get similar numbers – more than 3,200 servers in 95 countries. They are located on six continents, and users will find at least a single 1 Gbps port on every server for fast connection speed.
Surfshark may have more servers, but ExpressVPN has ultra-fast speed, so we can say it's slightly better in this aspect than Surfshark.
You can find a list of fastest VPNs here!
Surfshark vs ExpressVPN: Privacy features
Without checking the privacy features, we will have an incomplete Surfshark vs ExpressVPN comparison. For this purpose, we have tested three features (unveiled below) that impact users' privacy.
Surfshark vs ExpressVPN: Protocols
Thanks to the unique protocols, your privacy on the Internet will be guaranteed. Of course, you have to find VPN solutions that can provide this.
ExpressVPN, for instance, has the so-called Lightway VPN protocol. On the other hand, Surfshark relies on WireGuard.
The IKEv2 and OpenVPN protocols are present in both cases.
Uploading and downloading files, streaming movies, and other heavy-duty activities on Surfshark went uninterrupted. However, they can still say that ExpressVPN did a better job, especially when comparing the network jitter and latency. If you are a gamer, this can be a deal-breaker or a deal-maker.
Surfshark vs ExpressVPN: Split tunneling
Did you know that you don't have to use a VPN address on every site or service without logging off from your VPN service provider? This option is called split tunneling. With this option, you can filter sites where you can use your original address and others where you need a masked IP. So, it is possible to watch US Netflix and read a French news platform at the same time if you are based in France, for example.
Both ExpressVPN and Surfshark let you use split tunneling. When using Surfshark's mobile app, you should look for Bypasser to activate the feature.
Obviously, here we have another tie.
Surfshark vs ExpressVPN: RAM-only servers
The constant upgrades and improvements make VPN technology attractive. A few years ago, VPN users got the chance to use RAM-only servers. These servers have their data deleted whenever the user reboots their device.
Needless to say, with an option like this, you get an extra layer of anonymity and privacy while using a VPN.
ExpressVPN was one of the first VPN service providers that revealed RAM-only servers back in 2019.
The same goes for Surfshark, a VPN provider that has upgraded its infrastructure with a 100% RAM-only (diskless) server network. So, all 3,200+ servers they have are of this kind.
When we look at the facts, we don't have another choice but to say that we have another tie.
Surfshark vs ExpressVPN: Streaming
The popularity of VPN service providers has grown from the moment Internet users realized that they can use VPNs to stream content from almost any location in the world.
We don't have a clear winner in the case of Surfshark vs ExpressVPN. Both options pay special attention to the streaming experience because they know that many users are focused on this aspect.
We tested these VPNs on streaming platforms like Disney+, Netflix, HBO Max, Crunchyroll, etc., and we didn't notice any difference. In other words, there were no buffering or problems with the quality. Also, you can choose from servers in countries where you can get the most from the streaming platforms, like Canada, the USA, the UK, France, Germany, Japan, etc.
Don't forget that these VPNs are available for streaming directly from an app and a web browser.
Surfshark vs ExpressVPN: SmartDNS
SmartDNS is not that popular, but there are still many people who can take advantage of this feature. Thanks to SmartDNS, you don't need to connect to a VPN server, and you can unlock a streaming platform with a unique DNS server that will mask your current IP.
According to some experts, this can help you get faster speeds which is important for high-quality streams. But, the main advantage is that you can connect to devices that don't support VPN, including older smart TV models and some game consoles.
With ExpressVPN, you'll get the so-called MediaStreamer, part of the VPN app. So, you can't really use it on game consoles. The SmartDNS feature is included in Surfshark's price. Using it is a bit complicated because you need to set it up on the router or share your VPN-guarded connection from your PC to the device.
Surfshark vs ExpressVPN: Ease of use
The best VPN service providers make using VPNs a breeze. There's no need to spend a long time searching for the features and options. Luckily, this is not something you should expect from Surfshark and ExpressVPN.
To access the options, simply head to the control panel. For instance, ExpressVPN lets you type a location to find the nearest servers. You can also browse the server list to get info. Surfshark also has a list of servers.
Even is the best word to describe this Surfshark vs ExpressVPN duel.
Surfshark vs ExpressVPN: Restricted countries
Even though we are in the 21st century, there are many countries where you can't get a free Internet connection. Some of these countries have strict control over the Internet to suppress civil rights.
China may be an excellent example of this because some sites and services from Western countries are unavailable there.
Thanks to the top VPN service providers, users should gain access to all sites and services. Of course, this is usually not a smooth sail, but it works.
Surfshark has more servers than ExpressVPN, which may give it a slight advantage over ExpressVPN in this case.
Surfshark vs ExpressVPN: Cost
We will start with Surfshark, which has proven to be the less expensive solution compared to ExpressVPN and many other options. Namely, every user can choose one of the three plans – monthly, yearly, and 24-month.
The cost of the 1-month plan is $12.95, which is the same amount you have to pay for the ExpressVPN monthly plan. The 12-month plan costs $3.99 a month ($47.88 are billed at the beginning of this subscription and $96 annually after that). The 24-month is probably the best if you plan to use such services in the long run. This time, you pay $2.3 monthly ($59.76 are billed right away).
ExpressVPN also comes with three plans. The monthly plan costs the same as the one offered by Surfshark. Then there is the 6-month plan that requires $9.99 per month (users get billed every six months). Finally, the annual plan costs $8.32 per month, and you are billed every 12 months.
Without any doubt, Surfshark is better for those who are looking for long-term VPN usage.
Also, ExpressVPN brings a 30-day money-back guarantee for all plans, just like Surfshark. This is an excellent opportunity to check the performance of each solution before committing to long-term plans.
Surfshark vs ExpressVPN: Customer Service
When a VPN service provider doesn't have quality customer service, you should know that something is wrong.
The good news is that Surfshark and ExpressVPN have good customer service.
ExpressVPN comes with a live chat feature available 24/7, all year round. They have friendly yet professional agents who will deliver answers in no time.
Typically, it takes less than 5 minutes to reach an agent, and you can communicate in a few languages besides English.
The same goes for Surfshark. So, you can expect a live chat feature available at any time of the day (or night). Its knowledgeable team of agents will do their best to help you out.
As expected, users can also reach these providers over email and expect an answer within 24 hours. We should note that Surfshark and ExpressVPN don't have phone support.
On top of that, customers can visit these sites' support/help pages. There, they will find dozens of questions and answers in different categories. So, it's better to visit this place before seeking customer support agents' help.
All in all, both Surfshark and ExpressVPN have excellent customer support services.
Surfshark vs ExpressVPN: Our verdict
The moment you've been waiting for is here – who will win the Surfshark vs ExpressVPN battle?
We believe these two are one of the leading solutions VPN users have today. They promise strict privacy policies and bulletproof security for seamless downloading and uploading of files, streaming, and web browsing.
However, they are not entirely the same, at least not in all aspects.
ExpressVPN is a better option once we check all these things. Once again, we must say they belong to the same high-quality level, but ExpressVPN is slightly better.
For example, ExpressVPN has real-life examples of protecting users' privacy (the case with the confiscated Turkish server, which was wiped out). With this provider, you can expect ultra-fast connection speed.
On the other hand, Surfshark provides remarkable security and privacy feature and offers more servers. Like ExpressVPN it also offers a SmartDNS server. The most significant advantage for Surfshark users (at least for the long-term users) is the significantly lower cost they can expect.
Overall, ExpressVPN beats Surfshark, but this was an equal duel where nuances make the difference.