Comparing Surfshark and NordVPN
In this Surfshark vs NordVPN comparison we will take a look at the marketing aspects of both VPN services to establish which one is the best VPN for your needs.
Both have robust advertising campaigns dominating all mediums from TV to YouTube.
We conduct comprehensive research on all the best and modern VPN services in the market.
Then we review each one of them honestly, leaving no stone unturned. That way, you can get an idea of which VPN fits you perfectly.
With that said, how do they perform side by side? We conducted an extensive Surfshark vs NordVPN evaluation to determine this. Read on to find out more.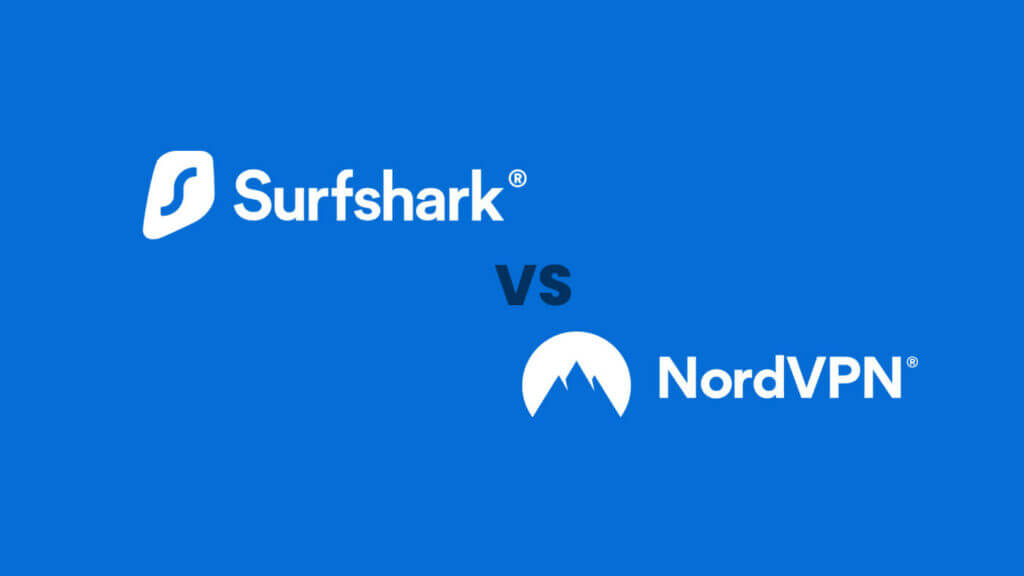 Overview — Surfshark vs NordVPN
Both Surfshark and NordVPN are great VPN service providers, which is why they have stood the test of time. With the changing times, the VPNs have undergone several upgrades to help them serve you better.
If you aren't aware of such upgrades, choosing the best one for your needs may be hard. So, it's only prudent that we do this NordVPN vs Surfshark comparison.
If you prefer a more direct approach, here's an overview of the two VPN services:
Surfshark VPN
More than 3000 servers
65 countries
Unlimited simultaneous connections
Has a kill switch
Has no-logging policy
Less expensive pricing plan ($2.49 per month on a two-year plan)
Has a trial period with a 30-day money-back guarantee
Supports MacOS, iOS, Windows, Android, FireTV, and Linux.
NordVPN
More than 5200 servers
60 countries
More consistent with faster performance
Six simultaneous connections
Has a kill switch
Logs only billing information and email address provided by the user
More expensive pricing plan ($3.71 per month for the first two years, then hikes up afterward)
Has a trial period with a 30-day money-back guarantee
Supports MacOS, iOS, Windows, Android, Linux, Smart TVs, game consoles, and more.
Features
We start off this comparison by taking a look at the various features NordVPN and Surfshark have. Understandably, they have to offer more than the basics for them to qualify as top VPN services.
This means that a user should be able to pick a server in a select number of countries and connect to it using either VPN service. That is basically how VPNs are meant to work.
That said, the VPNs offer varied services that are worth mentioning in this Surfshark vs NordVPN evaluation. Here's a comparison of the two:
Encryption & Security
The biggest difference between Surfshark and NordVPN is the default protocol and security maintained by each. For NordVPN, the default protocol is NordLynx — an exclusive protocol based on a state-of-the-art decorum called Wireguard which guarantees security and speed.
On the other hand, Surfshark features a default IKEv2/IPsec protocol — relatively fast with a few notable security issues.
In both VPN services, a user can shift from the default protocol to OpenVPN that is usually considered trustworthy. This sums up all the bad news.
Both VPNs provide lots of pleasant security features such as the usual kill switch, and multi-hop connections that can guarantee your online safety.
Even though we recommend occasional switching of protocols when Surfshark is in use, we can conclude that both the VPN services passed our tests for security.
Server Count and Speed
We ran a couple of speed tests. Both VPNs performed impressively well.
Evidently, NordVPN's speed usually depends on the server that a user connects to. It can slow down to a crawl or be lightning-fast, which in turn affects your browsing.
Surfshark, on the other hand, proved to be more consistent. However, its speeds can be best described as average since it offers close to half of NordVPN's speeds with a faster server.
One major upside is that, for a user only looking to get a VPN service to keep them safe online, either of these services will cover you with a server near you.
Also, both VPNs are relatively extensive, with NordVPN offering more than 5,500 servers in 60 countries and Surfshark offering more than 3,000 servers in 65 countries. With such networks, you can find a quality server within a couple of miles, especially if they are in North America or Europe.
Netflix Streaming
If you would like to use either service for streaming and for example gain access to Netflix libraries that are only available in specific countries, you are in for a big disappointment. Netflix recently launched a crackdown that has made it pretty challenging to access Netflix using a VPN.
However, some VPNs have proven to perform better than others in this regard using select servers.
NordVPN used to perform quite well with Netflix, but after conducting tests on various servers recently, we were not able to access it.
On the other hand, Surfshark VPN struggled a lot with Netflix's 'new VPN detected' system — so, if your main purpose for a VPN is entertainment, you may want to give Surfshark a hard pass.
Torrenting Services
The other crucial reason why people use VPNs is for torrenting. We found that both VPNs are able to handle torrenting quite well.
NordVPN features a large number of servers used especially for P2P activities. This is a nice touch, even though having special servers may not actually matter in this context.
In the past, Surfshark used to advertise its special servers. This is something they do not do these days though.
We can assume you can use any of the servers they provide for P2P traffic. All that matters is that you get a functioning kill switch and quality connection speed.
If torrenting services are what you need a VPN for, either service should suffice.
Bypassing Censorships
This feature is often advertised, especially by Surfshark. They boast the 'No-Borders' feature that has the ability to bypass all internet blocks by China.
Even though we are not quite sure how it works, Surfshark says they have special servers capable of getting you past various restrictions.
Interestingly though, it is a known fact that any server can usually bypass censorship blocks as long as the server's IP address is not under monitoring by the Chinese government. Although we cannot advise you not to use Surfshark to bypass restrictions, we feel that this kind of advertising is often misleading. Censorship blocks do not require special ability to bypass.
Overall, NordVPN has an edge over Surfshark in this regard.
Pricing and Discounts
Surfshark vs NordVPN pricing is an important feature to consider. Virtual Private Network providers usually tinker with their pricing, which may affect your decisions. That said, although Surfshark offers features that aren't quite as impressive, the service is less expensive.
The best deal by Surfshark is their $2.49 pricing plan per month for two years of service. On the other hand, Nord charges you $3.71 for a two-year service plan.
Definitively, Surfshark is the winner of this round seeing as users can run several devices with its premium plan. However much both contenders strive to pull a bait-and-switch on customers, Surfshark is a better option if you are looking to save some dollars in the long run.
Both VPN services offer a free trial period and a 30-day money-back guarantee in case the VPN does not satisfy your needs.
Overall, Surfshark probably offers the best value if all you need a VPN for is an extra level of security only. However, if you are looking to get a lot of exclusive features, NordVPN is a better bet and the extra 90 cents per month is worth it.
User Interface
The ease of use of either service is also another key aspect to look at. In this comparison, we established that the approach by NordVPN is quite user-friendly.
With its interactive in-app map, users have the ability to choose servers either by selecting from a list provided on the screen's left side or by clicking on a country.
With NordVPN, settings are laid out in an impressive . There is a clear menu to guide you on where various settings are found.
Also, you are able to mess around with various settings to fit your preferences since the app has explanations for the settings.
Nonetheless, Surfshark has a detailed user interface as well. It may lack its version of NordVPN's map, but users can get acquainted with it easily if they use it frequently. You may experience sluggish connections, but you will be connected eventually.
Surfshark's settings menu is not as good as that of NordVPN. It appears more basic with fewer explanations of settings and what they do.
Even though you may like its interface because it is easier to use, we recommend a user interface that is relatively tweakable.
Both VPN services support various platforms. For example, NordVPN supports macOS, iOS, Windows, Android, Linux, Smart TVs, game consoles, etc. On the other hand, Surfshark supports macOS, iOS, Windows, Android, FireTV, and Linux only.
Overall, although both services feature great UIs, NordVPN still has an edge because of its clearer settings menu.
Safety And Privacy
When it comes to privacy and security, both NordVPN and Surfshark have robust no-log policies. They claim never to keep logs or share user information with third parties, as is expected of VPNs.
However, as mentioned earlier, the best a user can do is to trust that a VPN service does not sell or share their data with third parties.
NordVPN has its headquarters in Panama, while Surfshark's headquarters are in the British Virgin Islands. This means that the services are far from the Federal Bureau of Investigation's warrants to access user data.
They also have no regulatory oversight, which means you'll be completely on your own.
With that said, Surfshark offers a solid privacy policy document. The policy is detailed, with a table of the types of information it handles.
It also gives information on the data stored, what they can share, and with whom. Not so many VPN providers give such information to their customers, which makes Surfshark appear trustworthy.
In contrast, NordVPN is more succinct. They do not present the information on a detailed table as Surfshark does.
Instead, they list data types that also work well in informing but do not offer a similar overview.
The only upside that NordVPN has over Surfshark is that it undergoes occasional security audits for various functions. Surfshark, on the other hand, carries out audits for only its servers' architecture.
The Final Verdict
Suffice to say, choosing between NordVPN and Surfshark depends on why you need a VPN service. If you only need a budget VPN for some extra security despite its speeds, Surfshark is a better bet.
However, if you need a Virtual Private Network Service that can do a lot more, like streaming geo-restricted libraries and games, you may want to give NordVPN a try, though it gets more expensive after the lapse of the initial two-year pricing plan.