If you check 5 lists of top VPN service providers, you likely will see these two brands in at least three. Surfshark and IPVanish are well-established VPN providers that serve thousands of satisfied users.
One of the reasons they stay on top is their ability to adjust to the latest trends and improve their features.
Of course, we are talking about features related to privacy, security, subscription plans, server speed and number, and a few other things.
To help our readers decide whether they should pick Surfshark or go with IPVanish when they need VPN services, we created this Surfshark vs. IPVanish comparison article.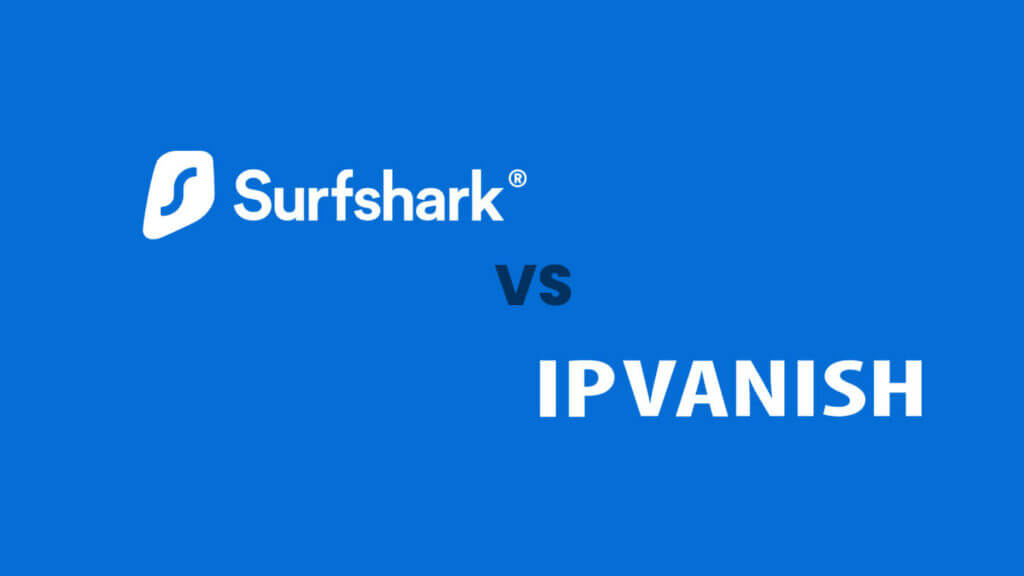 Surfshark vs. IPVanish: Privacy Policy
Whether you use a VPN or not, taking care of your online privacy should be a primary concern. The best VPN service providers have strict privacy policies that vouch for your anonymity and privacy whenever you are involved in any internet activities.
The good thing is that both Surfshark and IPVanish come with no-log policies meaning they don't monitor, track, or store your online activities in any way. We should note that Surfshark comes from the Netherlands, while IPVanish is based in the United States. Still, these companies use the current laws to protect their users' privacy.
While talking about these things, it's good to mention the connection logs. It's almost impossible for a VPN provider to vouch that no connection logs are kept, at least in the short term. They do this to improve their services. However, the best ones, like Surfshark and IPVanish, will delete these logs shortly.
Verdict: Tie
Surfshark vs IPVanish: Servers and speed
We can't make a valuable Surfshark vs. IPVanish comparison article without mentioning the number of servers and their speed. Although you probably won't use all the servers, it's still good to know that you have many options.
In the case of Surfshark, you can count on more than 3,200 servers in over 100 countries across the globe. When using Surfshark, you can mask your IP address with another one from any continent.
On top of that, Surfshark delivers fast connection speeds that will not interfere with your streaming or any other activities.
On the other hand, IPVanish has a slightly lower number of servers. You are looking at a provider with over 2,000 servers in about 50 countries. More importantly, these servers are located mainly in the Western world, including the USA, Canada, the UK, Germany, and France.
Like in the case of Surfshark, you will get fast speeds and unlimited bandwidth.
Verdict: Surfshark
Surfshark vs. IPVanish: Security
The best VPN service providers should be capable of protecting their users from hackers or other uninvited parties.
Users can't be sure whether they are being monitored without specific security measures. They also can't know whether the connection is secure from hacking.
For this reason, we analyzed Surfsharks' and IPVanish's security protocols, split tunneling, and RAM-only server capabilities.
Regarding the protocols, IPVanish relies on WireGuard, a well-established security protocol many VPNs use. It also uses the IKEv2 and OpenVPN protocols.
In addition to WireGuard and OpenVPN, Surfshark lets you use L2TP, which is probably less secure than the former. Still, it's good that users have an extra option.
Next on our comparison list is the split tunneling option, a feature that enables you to separate VPN usage. With its help, you can use a VPN on specific sites or devices and leave the original IP on others.
Both Surfshark and IPVanish allow split tunneling. It's worth mentioning that you will find it under Bypasser on the Surfshark VPN app.
Finally, thanks to the RAM-only servers, you can rest assured that the data shared with the VPN server, whenever you log onto it, is deleted after rebooting your device.
In 2020, Surfshark upgraded its infrastructure to 100% RAM-only servers. We can't say that for IPVanish, which still doesn't have RAM-only servers.
Verdict: Surfshark
Surfshark vs IPVanish: Streaming
One of the main reasons why people use VPN services is to unblock content on popular streaming services. So, if you are looking for a VPN for this purpose, you must analyze how Surfshark and IPVanish perform.
We'll get straight to the point –Surfshark and IPVanish are good options for streaming since they have several features that make this activity easy.
Disney+, Netflix, BBC iPlayer, Hulu, HBO Max, and Amazon Prime Video are some of the services you can use with their help.
Don't forget that you can access them from all countries where the libraries feature thousands of titles, including the USA, the UK, Canada, Germany, Japan, and France.
Verdict: Tie
Surfshark vs IPVanish: Cost
When choosing a VPN provider, you must take your budget into account. Of course, more expensive doesn't mean better, and users should always focus on the option that gives more bang for their buck.
Both Surfshark and IPVanish have several pricing plans based on the commitment period. We will start with Surfshark.
The 1-month plan at Surfshark costs 12.95€ while the 12-month offer will cost you 3.99€ per month. This means that you get a chance to save 69%. If you choose the annual plan, you will get billed around 57€ every 12 months.
Finally, the cheapest option is the 24-month plan which costs 2.05€ per month. In this case, you will be billed 53€ immediately and annually after the first 26 months. Basically, you get 2 free months and an 84% discount.
As for IPVanish, you can expect a monthly plan worth 10,49€. There's also a quarterly plan that costs 8,63€ per month. In the second case, you will be billed €25.9 per quarter.
Finally, the yearly plan provides 3 free months at 2.76€ per month. If you choose the annual option, you'll pay 41.51€ for the first 15 months and €77.99 annually after that.
Finally, IPVanish and Surfshark feature a 30-day money-back guarantee which is a great way to test these providers.
Verdict: IPVanish
Surfshark vs IPVanish: Our final verdict
To finish this Surfshark vs. IPVanish comparison article properly, we must come up with a final verdict.
Before we reveal our recommendation, we would like to point out that both VPN providers provide fantastic options.
For example, their privacy policies vouch that users can browse websites and stream or download content without worrying about their anonymity.
Next, we like how they have hundreds of servers in different countries and promise good speeds for any online activity.
As for security, they use well-established protocols and provide smooth split-tunneling.
Streaming content through these options is an enjoyable experience unburdened with buffering and restrictions.
Finally, they have reasonable prices, especially if you are willing to opt for one of their long-term plans.
When we analyze these things separately, we will notice that Surfshark leads in more categories (servers and security), but IPVanish is the cheaper solution.
So, depending on your budget and preferences, you should choose one of these two great options. However, in our opinion, Surfshark is slightly better overall.